SWANSON TANTALITE PROJECT
DOWNLOAD
INDEPENDENT GEOLOGIST'S REPORT – 06 MAY 2022
INDEPENDENT GEOLOGIST'S REPORT – 21 SEP 2021
INDEPENDENT GEOLOGIST'S REPORT – 31 MAR 2021
Orange River Pegmatite (Pty) Ltd (ORP) is a Namibian registered company and owner of an Exclusive
Prospecting Licence (EPL 5047) located in the Karas Region in the southern part of Namibia, some 15 km north of the Orange River. EPL 5047 is situated in a mountainous desert setting with reasonable road access and is characterised by a complex geological and structural setting with good mineralisation potential amplified in the presence of large shear zones (Tantalite Valley Shear Zone) and a neighbouring intrusive mafic-ultramafic body with appreciable Cu and Ni mineralisation. A large number of well-mineralized pegmatites are also present on the property and the potential of these occurrences is highlighted by extensive, small-scale mining activities where tantalum, beryl and spodumene were extracted from these pegmatites. The name Tantalite Valley is also indicative of the extent of mineralization. An active tantalite mining operation owned by Kazera Global PLC (AIM Listed) is present at the Mining Licence 77 within the boundaries of EPL 5047.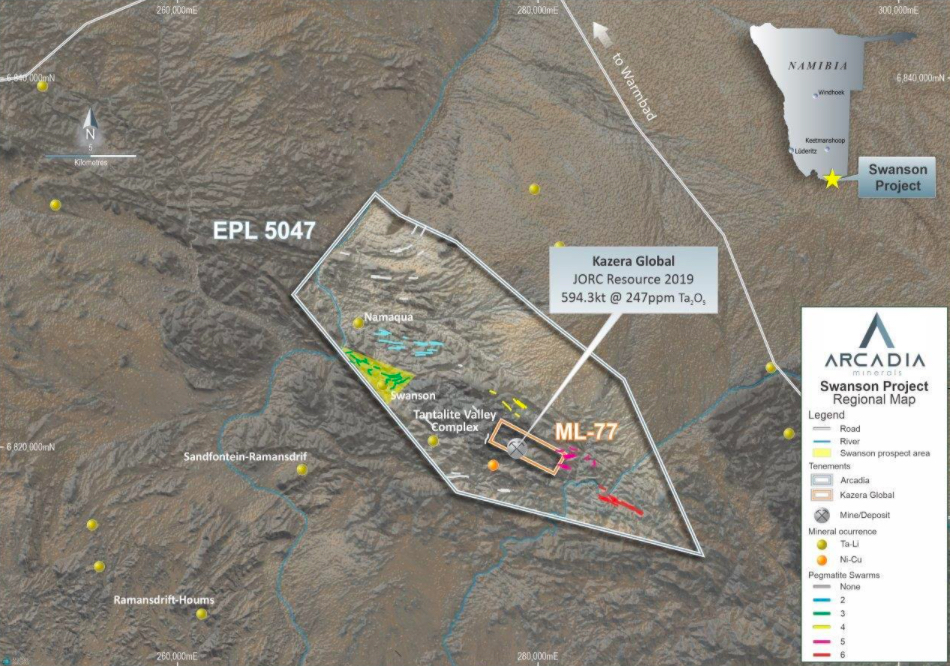 Based on a large number of data sources, field visits, historic reports and reconnaissance work by ORP, an area of some 3.5 km x 1.5 km was selected for detailed mapping, sampling and drilling work. It was found that this area comprises a large number of well-mineralized and shallow dipping pegmatites. During the early 1980's, these pegmatites were sampled extensively by Placer Development (a Canadian exploration company) by means of channel samples and bulk material testing and although no quality control principles were applied during the programme, the work was of industry standard at the time. Lithium was in low demand then and, as a result, no work was done on the spodumene content and potential in the selected area. From old mining sites and reconnaissance work by ORP, it is, however, indicative that substantial spodumene potential exists within these pegmatite bodies.
Project Gallery