Karibib Copper & Gold Project
DOWNLOAD
INDEPENDENT GEOLOGIST'S REPORT – 31 MAR 2021
The Karibib Project is owned by Goas Pegmatite Exploration (Pty) Ltd (Goas) through its Exclusive Prospecting License, EPL 4663 which covers some 40 986 ha in the Erongo District in central Namibia. The EPL is located approximately 45 km south of the town of Karibib, 135 km west north-west of the capital Windhoek and approximately 130 km east north-east of Namibia's port-town of Walvis Bay. EPL 4663 is located 26km south of the active Navachab Gold Mine owned by QKR Namibia Ltd and 50km south of the significant Twin Hills Au discovery made by Canadian listed Osino Resources Corporation in 2019.
Goas plans to systematically explore EPL 4663, with a view to defining a JORC compliant mineral resource.
EPL 4663 is situated within the same mineralisation zone and shares striking geological similarities with the Navachab Gold Mine and Osino's Twin Hills deposit. Osino's success arises from their efforts to re-explore portions of the Kalahari Gold Field covered by their exclusive prospecting licenses. Companies such as Goldfields, Anglo American and various junior explorers historically explored these areas and EPL 4663 during the 1980's. These early explorers did not have the benefit of sophisticated modern exploration equipment and techniques such as those used by Osino in making its multiple recent discoveries.
Goas has conducted a re-evaluation of historical exploration results and incorporated modern-day geospatial datasets over EPL 4663. This re-evaluation produced new geological perspectives and indicates significant exploration potential that warrant further detailed exploration. From the investigation Goas discovered a Northeast-Southwest trending, 1 to 2.5 km wide and 20 km long structural feature corresponding with known mineralisation and with historical base- and precious-metal soil and stream geochemical anomalies.
Limited historical and current reconnaissance rock-chip and channel sampling of exposed mineralisation within the newly identified structural feature has yielded significant results which suggest that an epigenetic Cu-Ag-Au-W skarn- and polymetallic replacement vein-type mineralisation-system is present along its extent. In the south-western portions of the structural feature, a total of 8 rock-chip samples were collected, with an average grade of 2.4 wt. % Cu, 17.23 g/t Ag, 1.25 g/t Au and 0.33 wt. % WO3, and a maximum grade of 3.15 wt. % Cu, 36.4 g/t Ag, 1.79 g/t Au and 1.05 wt. % WO3, being obtained. In the north-eastern portions of the same structural feature, a total of 8 channel samples of a 70 m long mineralised calc-silicate unit have also yielded a significant average grade of 1.28 m @ 2.72 wt. % Cu, 56.7 g/t Ag, 0.45 g/t Au and 0.23 wt. % WO3, with one sample yielding 2 m @ 4.10 % Cu, 252 g/t Au, 0.80 g/t Au and 0.21 wt. % WO3. In addition, there are also several neglected (and decisively inconclusive) historical base and precious-metal geochemical anomalies which link and trend between these two mineralised areas within the structural feature. Up until present day these anomalies and mineralised exposures were never conclusively placed within any project-scale geological framework or explored using modern exploration methods.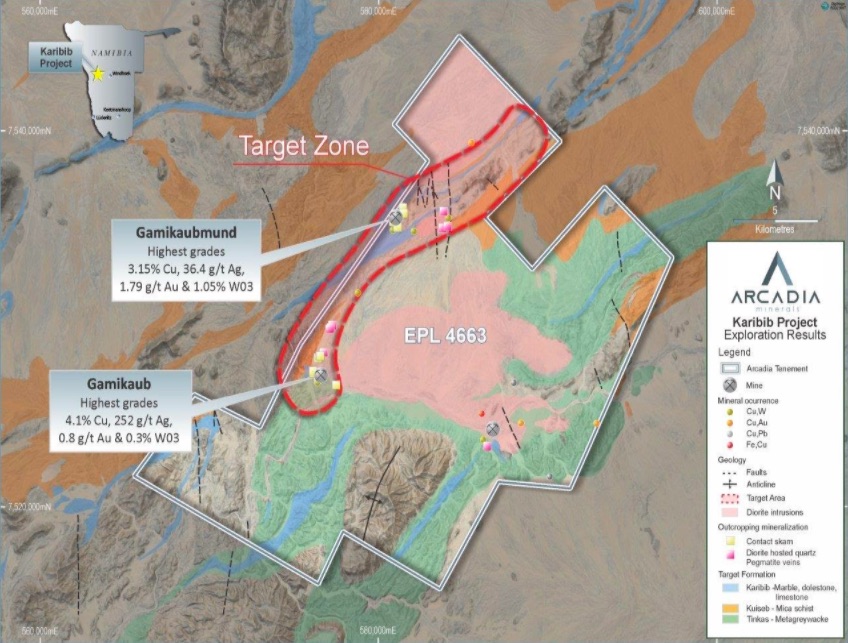 Based on remotely sensed unsupervised land-classification, it is indicated that approximately 40 – 60 % of this highly prospective structural feature is covered by eluvial, alluvial and/or rock-float regolith, thereby suggesting that regolith mapping and orientation, which has to date not been conducted at all on the property, is also likely to be a critical factor in locating unknown mineralisation and expanding on known mineralisation within the prospective structural feature. The reinterpretation of the significance of low order historical anomalies is likely to be fruitful, as is the case with Twin Hills.
Goas has done some reconnaissance work on its EPL but did not made sufficient progress in its exploration programme, the samples were not sufficient in numbers and spacing to be considered truly representative or spaced close enough to demonstrate grade continuity to allow any of the exploration targets in the permit areas to be considered for classification in terms of a JORC resource. For this reason, the property of Goas in terms of Cu-Ag-Au-(W) skarn and orogenic Au sulphide mineralisation is considered an exploration project at this stage.
Project Gallery